Our Values
The Ecospec core values reflect what we expect from ourselves and each other.
This is how we do business and is the Ecospec way.
We CREATE solutions

We are PRO-ACTIVE and always have a "can-do" attitude

We take RESPONSIBILITY for our own safety and the safety of those around us

We build our EXPERTISE by investing in our people

We RESPECT our business, each other and the environment

We are MORE than a contractor!
Explore Recent Work
Ecospec work closely with our clients to take responsibility for achieving clients engineering objectives, identifying cost effective methods, sharing risks and meeting budget targets.
Ecospec offer clients a Workmanship Warranty and a realistic Performance Guarantee for remediated structures.
Kirra Boardwalk Replacement
Sarah Gullifa
2020-02-15T11:48:13+10:30
Holdfast Marina Footbridge Remediation
Sarah Gullifa
2019-03-05T20:14:37+10:30
Cannery Creek Bridge Repairs
Sarah Gullifa
2018-10-07T14:43:07+10:30
Latest News
Find out all the latest news and announcements
Ecospec have been awarded the contract for the reconstruction of the Robe Marina Straddle Carrier Jetties. The works will comprise of construction of a new crane running beams, pile extensions and new abutments. The scope
The Ecospec team were recently called to QBH to repair concrete to the conveyor gallery at the QBH Operating Plant in Queensland.  ​Concrete repairs were made to the conveyor gallery pedestals and access tunnels. This involved the
Ecospec have successfully completed the first part of the stabilisation of canal embankment at Raby Bay, Queensland. ​This was achieved using a design and construct solution provided by Ecospec, followed by releveling of the concrete revetment wall.
Our Policies
Ecospec is committed to environmentally positive solutions and outcomes, the safety of our people and the public, and quality of our work.
Ecospec holds the following accreditation certificates in the areas of Environment, Safety and Quality.
Occupational Health & Safety Management System - AS/NZS 4801:2001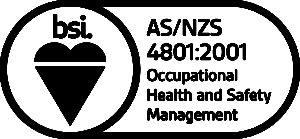 Enhancing Coastal & Marine Infrastructure 
Improving the Performance and Extending the Life of Coastal and Marine Infrastructure 
Only takes a few seconds!